CNC Precision Manufacturing
Machined Parts to Meet Your Needs
BlueRing Machining combines laser and machining technologies, along with world-class design and engineering teams. We offer customized solutions for your assembly and production needs. Our CNC machining applications range from tooling to custom precision machined parts for any industry. For your manufacturing process, the engineering staff at BlueRing Machining aids in step-by-step process development. Whether you are working with small or high-volume production, we are committed to cost-effective solutions, quick turn-around, and exceptional tolerance.
Extension of Your Engineering Team
Top of the Line Technology
Based out of Conyers, Georgia, the 20,000+ square foot facility employs a dedicated staff with an average of 15 years of experience in the fixture and tooling industry. BlueRing Machining is ITAR registered and ISO 9001:2015 certified. The lathe-, router-, mill-, and drill-based CNC machining equipment utilized in Georgia already inspired the decision to grow.
Extensive Tooling Solutions
Effective, Reliable, and Robust Tooling
We at BlueRing Machining, take the challenges that the ever-changing world of electronics manufacturing throws at us head-on. We excel in the more exotic and complex applications that others tend to shy away from. We are not here to simply build you any old fixture, but rather to solve the problems at hand and to provide a practical, applicable solution.
BlueRing Machining pallets are not only designed, but are engineered to withstand the daily manufacturing environment. We use all-lightweight yet durable materials on all of our pallets and machine them with as much weight reduction as possible.
Our fixtures are custom designed to fit your needs, whether it's a simple window frame to support a PCB through the wave, or a highly complex double-sided board with close SMD's to thru-holes that will require Titanium inserts to provide durable sealing walls to prevent flooding. Whatever your needs may be, we are equipped to handle them and to provide you with a quality product.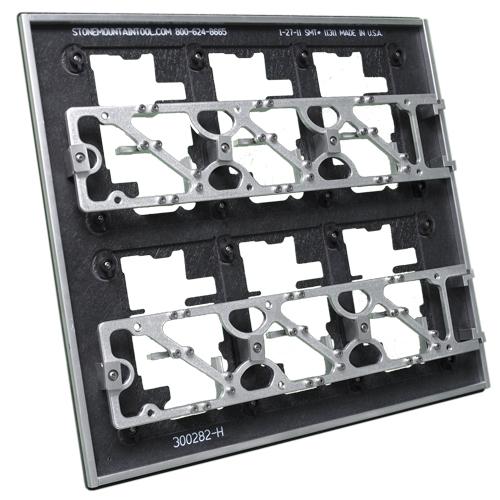 Talk to us about your next project!